Territory covered
The project covers the Spanish Mediterranean coast, with a special focus on the Valencian Community coast (S.E. Spain) and Denia beaches, where the Carybdea marsupialis bloom was detected in the summer 2008. 
Download the kmz file from Google Earth. (1.0 KB)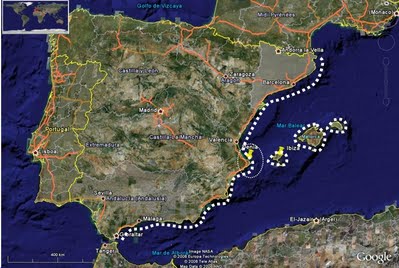 Spanish Mediterranean coast                                Valencian Community coast
The main area of study is divided by Denia's harbour. To the north there are sandy beaches, with gentle slope (where we have detected the largest populations of the species). The benthic communities correspond to sandy spots of Posidonia oceanica more or less extensive, and rocky bottoms. The limit to the north of the area of study in Denia corresponds with the river Racons mouth. Compared to almost the entire length of this area we can find a the LIC with Posidonia Oceanica meadows called "l'Almadrava".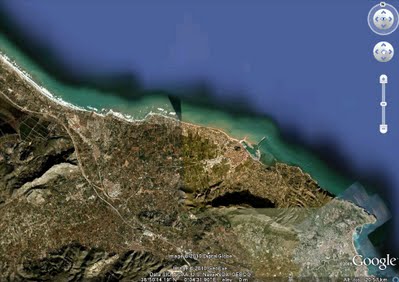 Coast of Dénia
Towards the South of the Denia's harbour we find low and high cliffs (up to the Cape of San Antonio). The entirety of this sampling area corresponds to the Marine LIC "Montgó". There are Posidonia oceanica (1120) and Cymodocea sp. meadows (1110), as well as reefs (1170).
From an oceanographic point of view, this coastal waters are away from the influence of oceanographic currents. In this area, storm surges coming from east or north have the main impact.
On Denia shoreline there are also infrastructure constructions (breakwaters), two regenerated beaches (Marines in 1987 and Almadraba areas in 2005) and a large commercial harbour (Denia).
Denia was chosen as the main area of study because this was the first location were a bloom of C. marsupialis was detected and quantified in the Mediterranean. Later, we have detected this species along the north coast of Denia (approx. 17km).
The coast of Denia is an enclave of high environmental quality, where you will find two LIC, in addition to two natural park land (Marjal Pego - ZEPA and RAMSAR) and the Natural Park of Montgo. There are also microreserves of flora.
Due to the high environmental quality of the marine habitats, and regarding to the data that we already have on the population explosion of Carybdea marsupialis, it would be necessary to explore and remedy this massive proliferation before that could trigger a problem of greater intensity and territorial scale, in application of the principles of prevention and precaution Art. 174 Treaty of the Union.  
From 2010, both samplings and field studies of LIFE CUBOMED project has been also adressed to other coastal locations where the presence of this box jellyfish have been detected, covering all Mediterranean Spanish coast, from Empuriabrava (Catalonia) to the North, to Águilas (Murcia) to the South.

Article 174 of the EU Treaty (2.0 MB)